Over the years, we at Magic Electric, Plumbing, Heating + Air have built a reputation as a top service provider in the fields of plumbing, electrical, and HVAC in Kimberly, ID. We've helped countless homeowners turn their homes into more comfortable and enjoyable places. We believe all three fields we specialize in are absolutely essential for a well-functioning household, so we go above and beyond at everything we do.
Trusted Plumbing Professionals in Kimberly
When you need a plumbing service, you need it fast. Our expert plumbers will arrive at your home as soon as they can and they'll work to resolve any issues as soon as they can.
We offer a wide range of plumbing services, including but not limited to:
Leak Detection
Drain Repair
Rooter Services
Hydro Jetting
Pipe Lining
Camera Inspections
Tankless Water Heaters
Water Filtration
Faucet Repair/Install
Shower Repair/Install
Garbage Disposals
Septic Tank Repair/Install
Sump Pumps
Sewer Repair
Boilers
Remodels
Water Softeners
Toilet Repair/Install
Slab Leaks
Proficient in Electrical Services
Electrical work can be challenging and dangerous so we'll never advise you to attempt to do it alone. Instead, we recommend that you give us a call at Magic Electric, Plumbing, Heating + Air. Our expert electricians have years of experience in the field so they'll be sure to do their jobs safely and effectively.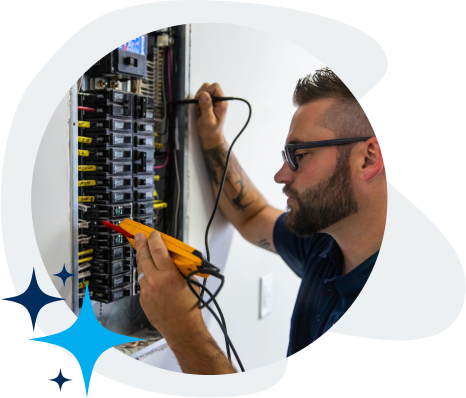 Do you need electrical work done? Here are the services we offer:
Electrical Upgrading
Electrical Repairs
Backup Generators – Push for whole home
Panel Replacements
Panel Inspections
Whole-Home Rewiring
Electrical Replacement
Surge Protection
Outlet Repair/Install
Switch Repair/Install
Fan Installation
Solar
Indoor Lighting
Outdoor Lighting
Remodels
Smoke Alarms
CO Testing
Trusted and Reliable HVAC technicians
No matter how happy you are with your HVAC system, sooner or later it's bound to require a repair or replacement service. If you're experiencing any issues, please don't delay getting in touch as waiting can only make them worse. Our team members will work to improve any issues so that you can return to your daily life with minimal interruption.
We offer an array of HVAC services:
Electric Furnaces
Gas Furnaces
Heat Pumps
Packaged Units
Mini-Splits
Whole-House Fans
Ventilation
Refrigeration
Humidifiers
Dehumidifiers
Air Purifiers
UV Lights
Filters
IAQ Testing
Air Scrubbers
Air Balancing
Zoning Systems
Thermostats
Home Energy Audits
Free Estimates on Install
Boilers
Ductwork
Sheet Metal
Are you ready to book your plumbing, electrical, or
HVAC service
in Kimberly? Please get in touch with us at Magic Electric, Plumbing, Heating + Air and we'll help you book your appointment.