Keep your electrical system running properly with breaker panel services from your trusted local electricians at Magic Electric, Plumbing, Heating + Air.
The electrical panel in your Boise, ID home is responsible for distributing power to every area of your property. From lighting to outlets, and even major appliances like your HVAC system, a damaged breaker box can quickly leave you without access to many of the systems you use on a daily basis.
Whether you need a simple fuse box repair or a full panel upgrade, the electricians at Magic Electric, Plumbing, Heating + Air are here to help.
We start every service with troubleshooting and inspection to find the source of the problem. We provide upfront pricing and hassle-free scheduling so you can quickly return to your routine and the things in life you enjoy!
Want to be sure the rest of your electrical system is up to code? Be sure to ask about our whole house safety inspection and address any other problems before they become an emergency!
What Are the Benefits of a Breaker Panel Upgrade?
Opting for an electrical panel replacement is not something that should be taken lightly. Not only is it more expensive when compared to breaker panel repair, but oftentimes, other electrical components like wiring need to be replaced to be compatible with your new panel.
However, there are many times when replacing your breaker panel is necessary. And there are plenty of benefits that come with upgrading:
Improved Performance
Many older homes in Boise, ID are often designed to accommodate about 30-60 amps of power for the entire property. As you add appliances and electronics to that equation, your electrical system can easily struggle. With an upgrade, you'll have a panel that can power 100-200 amps, giving you increased capacity and power.
Lower Energy Costs
Newer panels are known to run more efficiently. With a steadier flow of electricity, that means lower energy costs and improved performance from many of your larger systems like your heating and air conditioning.
Added Safety
The harder your electrical system has to work, the more wear and tear it can suffer. This leads to issues like tripped fuses, burned wires, and general power outages. With a breaker box replacement, you will enjoy more peace of mind knowing your electrical system is working as it should.
Improved Property Value
Investing in your home is always a good idea. A panel upgrade can add considerable value to your home, and will also ensure that you're up to code, which is key if you plan on selling your property.
At Magic Electric, Plumbing, Heating + Air, we can advise whether replacing your breaker box is needed and provide a panel box installation carried out to code. We use high-quality components from Eaton and Square D and always back our work with our customer satisfaction guarantee.
How Can You Tell if Your Panel Needs Repairs?
While electrical panel repair should always be left to the professionals, it's still important to know the warning signs of damage. If these issues become a consistent problem in your home, getting repair services can help solve them once and for all.
Some of the most easily detectable symptoms of panel issues include:
Flickering lights
Damaged fuses
Tripping breakers
Burning odors/visible fires
High energy costs
Appliances turn off when too many are in use
Old age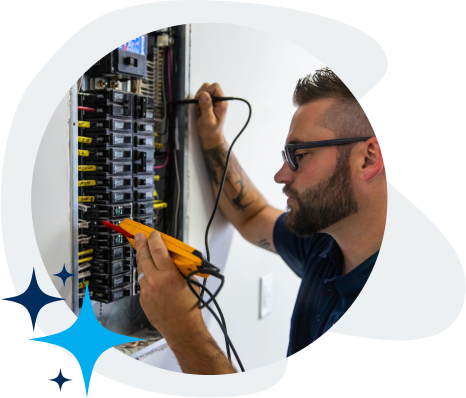 For some homes in the Boise, ID area, you may still be dealing with fuse box repair issues. Fuses are outdated and do not offer the same safety as a circuit breaker, which protects your appliances and wiring from surges and damage.
Our electricians always take the time to explain your system so you can make an informed decision as to what works best for your home.
With more power in your home, be sure to upgrade your major appliances! Consider new indoor lighting without worrying about flickering lights.
Why Work With a Professional?
At Magic Electric, Plumbing, Heating + Air, we understand the importance of getting the fast, expert help when you need it. No one wants to wait all day for breaker repair and miss out on more important life events!
Working with our professionals ensures you have peace of mind knowing the work will be carried out safely and as quickly as possible. Our licensed electricians can assist with everything from fuse box repair and inspection to full breaker box replacement.
Is your breaker panel constantly tripping? It might be time for an upgrade! Call us at 208-254-5514 to learn more about your Boise, ID electrical panel upgrade options today!